Sunday 22nd September, 11.30am by Ye Olde Fighting Cocks, St Albans AL3 4HE

Thank you for the many messages of support with people asking what they can do to help the sad River Ver. Well, this is a good opportunity. Please spare just an hour and join us in a family friendly show of support for the river – and wear something BLUE!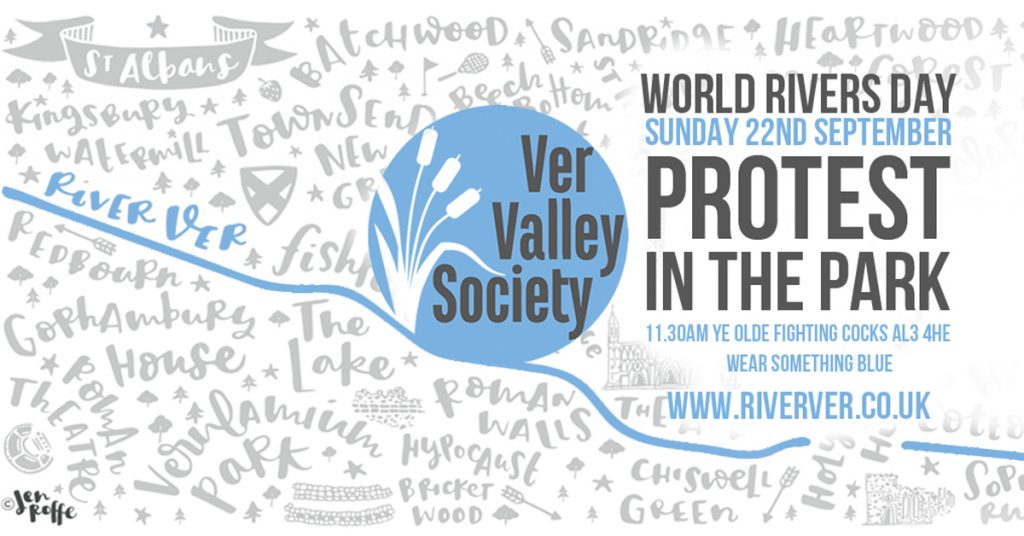 It seems that the government and its agencies feel that low flow and no flow in rivers like the Ver, are acceptable levels of environmental damage in pursuit of public water supply. We need to change the balance and give the environment a higher priority.
What's more, we are really disappointed that Affinity Water and the Environment Agency between them haven't done enough this year to help. There's been no sign of water saving measures (like a hosepipe ban) or a discernible increase in water saving messages. And all the while the Ver and our neighbouring precious chalk streams have been disappearing. In Verulamium Park the Lake needs water from the river and without it will always struggle to be healthy. St Albans Council are working hard behind the scenes and we'd like to give them a big thumbs up.
The Ver Valley Society has been campaigning particularly hard this year and there have been some notable successes but we need help from the citizens of St Albans and further afield to achieve significant success. We're hoping for a good turn out to show how much we all care and we'll have information available on the day with ideas and suggestions on how you can make a real difference.
It's World Rivers Day and we no longer have one, please put on a blue shirt, blue hat or come in blue fancy dress! See you at Ye Olde Fighting Cocks!